When the Austrian Army was re-established after WW2 and the occupation period in 1956, the domestic vehicle industry had already started to develop new post-war trucks. Steyr Daimler Puch had introduced its post-war truck line with the Type 370, shortly to be replaced with the first Diesel Type 380 (of which only a small number was procured by the Army). The Type 480 became the first post-war medium supply truck that entered Army service. Over the years, its WD 413 4-cylinder Diesel engine saw several modifications (increasing in power to 95 HP), however the Army clearly demanded a 4WD-version to replace the large number of light and medium US-trucks left behind by the occupational forces.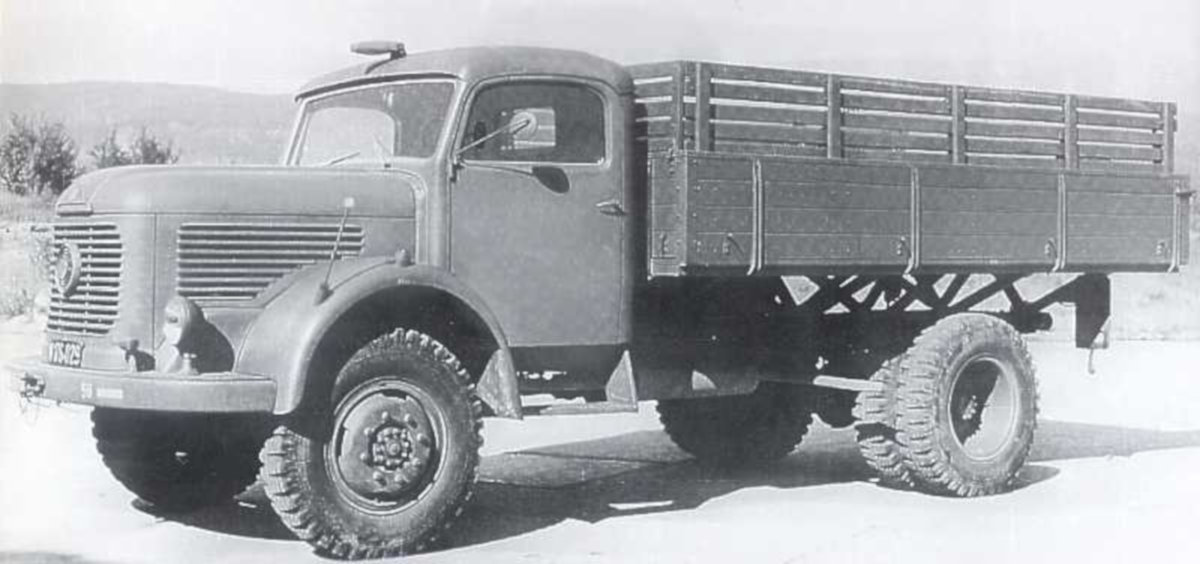 In 1957 Steyr presented its new Type 580 with a payload increase from 5 to 6 tons and (as version 580g) for the first time available in 4WD configuration. These vehicles were the first full replacements for the offroad vehicles taken over from the occupational forces upon the re-establishment of the Army. For military service, Steyr also provided a version with a faster transmission ratio. As in the military version, also the civilian Type 580 had the free-standing front lights and no chrome applications.
The Type 580 should not see a very long production life, as already in 1958 Steyr introduced the Type 586 with a new 6-cylinder Diesel engine. This came in response to market demand for a stronger engine, and instead of an expansion of the WD 413 4-cylinder engine to a WD 613 6-cylinder version, Steyr introduced a new series, the WD 609, which would continue to be built until the mid 1980s (later as version WD 610) and delivered 120 HP. The WD 613 engine never saw service in the West, however the Csepel works in Hungary built the engine under a Steyr license and continued to put it into its trucks and buses.
In 1959 a 4WD version of the Type 586 (the Type 586g) was presented. As with the Type 480, the Army received evaluation models even before the official presentation to the civilian market.
Our vehicle had already been part of a presentation during the celebration of "50 years Vienna Military Command" in April 2013. In June of that same year it also participated in "On Wheels and Tracks", was later sold off by its owner and disappeared from view. In October 2018 it was re-located, acquired and fully restored during the winter months before it was officially presented in 2019. The vehicle was used for Driver Training (it is equipped with a second brake pedal on the passenger side) and was in Army Service from September 1958 until February 1987.