The ÖAF gl sLKW 20.320 was developed by ÖAF (Österreichische Automobil Fabrik) as a heavy supply and engineer vehicle for the Austrian Army starting in 1974. As a consequence of the first oil price shock in 1973 and the resulting economic downturn in many European countries, the Austrian government in 1974 instigated the development of a high-mobility, heavy truck for the Austrian Army to be produced by Austrian manufacturers. While a similar concept already existed from MAN for the German Bundeswehr (the MAN "Kat1"), it was decided not to procure German vehicles but instead push for an Austrian development. As ÖAF by that time was already cooperating very closely with MAN (and was later absorbed into the MAN group), it based its development on the MAN Kat1 but selected a water-cooled MAN D2538 engine over the air-cooled Deutz engine in the Kat1. This was intended to resolve a weakness when driving the vehicle at very low speeds and low engine RPM where the air-cooled Deutz sometimes encountered overheating problems. Because of the low cab (to comply with vehicle height restrictions for rail transports), no front-mounted radiator could be incorporated, so ÖAF placed the radiator on the right side of the vehicle just behind the cab and equipped it with a hydraulically-driven radiator fan whose RPM was now independent of the engine RPM.
This new "sLKW" ("schwerer Lastkraftwagen" or "Heavy Truck") was manufactured in four variants: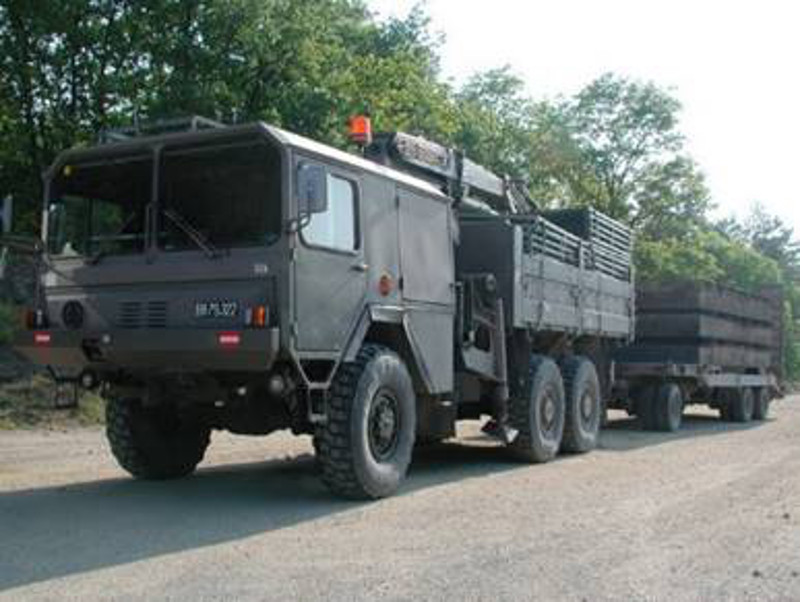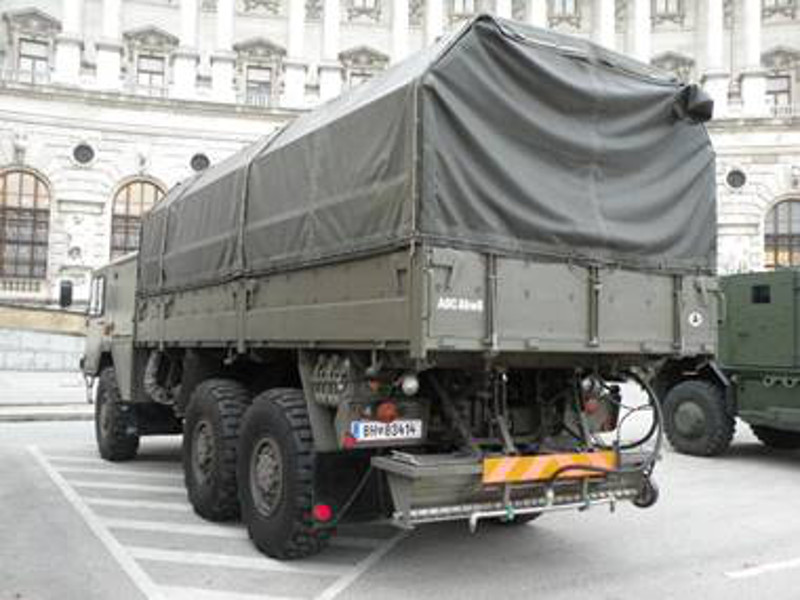 The turbo-charged V8 diesel engine produces 320 HP from 12.76 liters volume, a 6-speed fully synchronized manual transmission with subsequent torque converter makes the vehicle extremely easy to operate – even in heavy terrain. In emergencies, it was even able to tow the 55-ton Goldhofer low-loader trailer of the heavy tank transport system. All vehicles were equipped with a hydraulic Rotzler winch that could pull 8 tons to the front of the vehicle and 16 tons (with a pulley) to the rear.

Our vehicle is chassis number 697-0002, making it the second vehicle built, and was issued to the Army Driving School in Baden on March 18 1976. An ÖAF sales brochure from the time shows this vehicle fording:
Since this truck spent its whole active service at the Army Driving School, its history is extensively documented. Probably the most famous driver of the vehicle was King Hussein of Jordan, who visited the School on June 17 1976 and test-drove the brand-new vehicle.